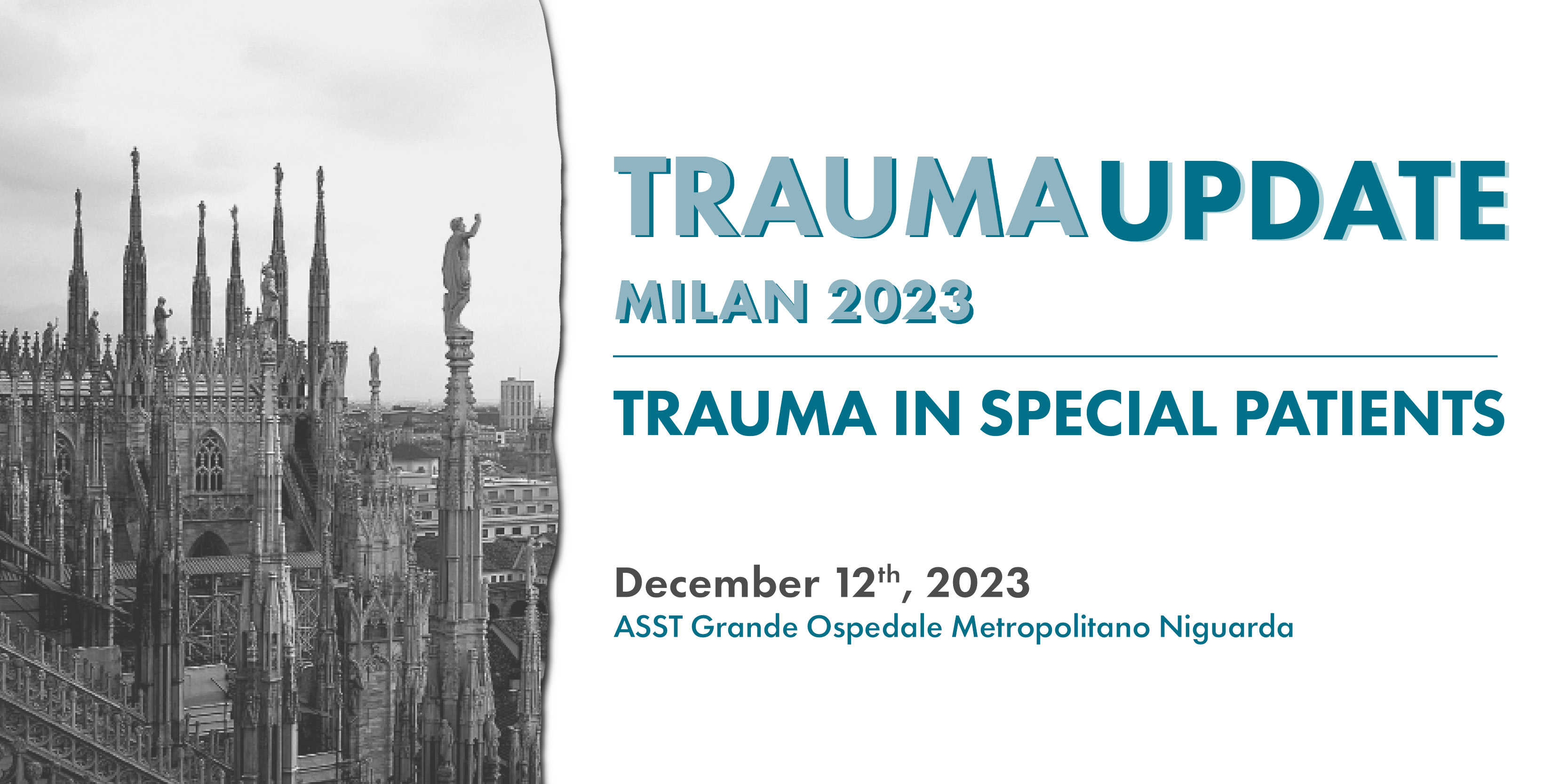 TRAUMA UPDATE – TRAUMA IN SPECIAL PATIENTS
VENUE
Aula Magna (Pavillon nr. 1 – 1st floor)
ASST Grande Ospedale Metropolitano Niguarda
P.zza Ospedale Maggiore, 3 – 20162 Milan (Italy)
REGISTRATION
On-line registration at www.noemacongressi.it.
Registration Fees
• Full fee: € 150,00 + 22% VAT (Phisician)
• Reduced fee: € 110,00 + 22% VAT (Resident, other Healthcare Professional)
The fee includes: admittance to the Scientific Sessions, Congress kit, certificate of attendance, CME credits (if achieved).
The staff of Niguarda Hospital interested in joining the Congress can contact the Secretary of DEA-EAS
Department, Tiziana Filomia – tiziananatalina.filomia@ospedaleniguarda.it – ph. +39 02 6444 7209).
CANCELLATION POLICY
Cancellation of registration has to be compulsorily notified in writing (by email or fax) to the Organizing Secretariat. 70% of the amount paid will be refunded if cancellation is made no later than November 10th, 2023. After that date there is no refund.
CME CREDITS
Provider: Noema srl unipersonale (Id. 891) – Id. event: 401456 – Number of credits: 1,8
Categories included in CME accreditation: Physician (Anesthesia and resuscitation, General surgery, Maxillofacial surgery, Pediatric surgery, Plastic and reconstructive surgery, Thoracic surgery, Vascular surgery, Emergency medicine and surgery, Physical medicine and rehabilitation, Neurosurgery, Neurology, Orthopedics and traumatology; Radiodiagnostics), Nurse, Physiotherapist, Orthopedic technician, Radiology technician
Educational objective: Guidelines – Protocols – Procedures