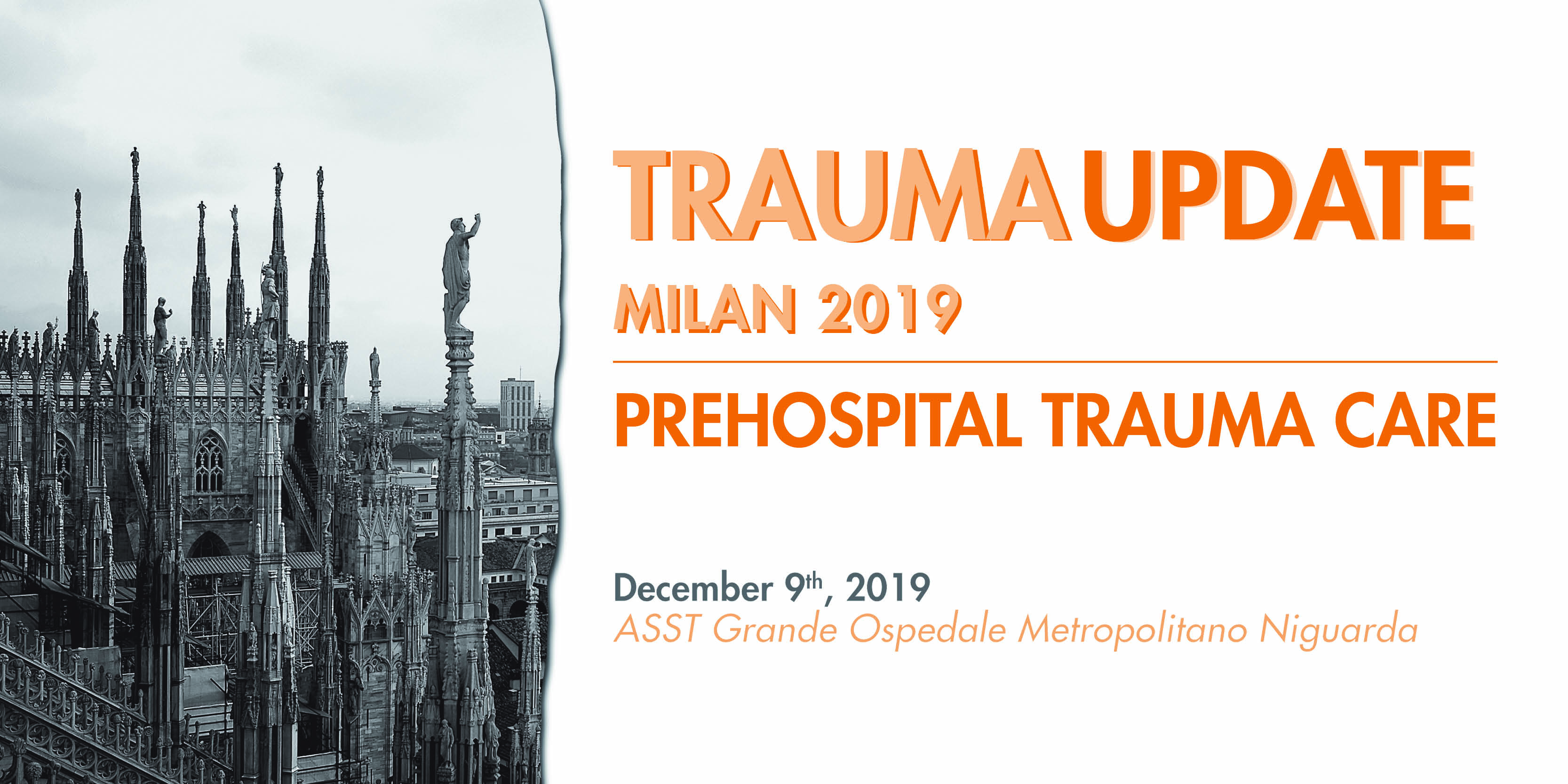 TRAUMA UPDATE – PREHOSPITAL TRAUMA CARE AND TRAUMA REGISTRIES
Provider ECM NOEMA
SCIENTIFIC COMMITTEE
Osvaldo Chiara (Milan)
Stefania Cimbanassi (Milan)
Arturo Chieregato (Milan)
Roberto Fumagalli (Milan)
TRAUMA UPDATE COORDINATION COMMITTEE
Osvaldo Chiara (Milan)
Arturo Chieregato (Milan)
Elvio De Blasio (Benevento)
Giovanni Gordini (Bologna)
TRAUMA UPDATE TECHNICAL AND SCIENTIFIC COMMITTEE
Vanessa Agostini (Cesena)
Giovanni Bini (Cesena)
Stefania Cimbanassi (Milan)
Emiliano Cingolani (Rome)
Carlo Coniglio (Bologna)
Giuseppe Gristina (Roma)
Francesca Mengoli (Bologna)
Alessandro Monesi (Bologna)
Concetta Pellegrini (Napoli)
Daniele Poole (Belluno)
Gianfranco Sanson (Trieste)
Claudio Tacconi (Bologna)
Annalisa Volpi (Parma)
INTERNATIONAL EXPERTS
Sharon M. Henry (Baltimore, MD, USA)
Marc Maegele (Cologne, Germany)
Max Marsden (London, UK)
Thomas M. Scalea (Baltimore, MD, USA)
FACULTY
Gabriele Bassi (Milan)
Osvaldo Chiara (Milan)
Stefania Cimbanassi (Milan)
Carlo Coniglio (Bologna)
Luigi Festi (Varese)
Roberto Fumagalli (Milan)
Riccardo Giudici (Milan)
Giovanni Gordini (Bologna)
Sharon M. Henry (Baltimore, MD, USA)
Marc Maegele (Cologne, Germany)
Claudio Mare (Milan)
Max Marsden (London, UK)
Maurizio Migliari (Milan)
Fabrizio Sammartano (Milan)
Thomas M. Scalea (Baltimore, MD, USA)
REGISTRATION FEES
• Full fee: Eur 120,00 + 22% VAT
• Reduced fee: Eur 85,00 + 22% VAT
(Resident, Nurse, Orthopedic Technician)
The fee includes: admittance to the Congress sessions, Congress kit, certificate of attendance, CME credits (if achieved).
INVOICING
Any request for modification of the invoice, after the issuance thereof, will involve an administrative fee of € 50.00 + 22% VAT. The change may be requested no later than 15 days after the issue.
In case of invoice headed to Public Administration Institutions it is necessary to send by e-mail (to m.grazia@noemacongressi.it) the authorization of the Institution (with the indication of possible VAT exemption). Otherwise the fee will be invoiced to the participant and will be subject to VAT 22%.
CANCELLATION POLICY
Cancellation of registration has to be compulsorily notified in writing (by email or fax) to the Organizing Secretariat. 70% of the amount paid will be refunded if cancellation is made no later than November 8th, 2019. After that date there is no refund.
The staff of Niguarda Hospital interested in joining the Congress can contact the Secretary of DEA-EAS Department (Tiziana Filomia – ph. +39 02 64447209 tiziananatalina.filomia@ospedaleniguarda.it).
LANGUAGE
English is the official language. Simultaneous translation from/to English/Italian will be provided.
CME CREDITS
• Provider: Noema srl unipersonale (Id. 891)
• Id. event: 280895 • Number of credits: 2,1
• Categories included in CME accreditation: Physician (Specialties' list available on Age.Na.S. website), Nurse, Orthopaedic Technician
• Educational objective: Guidelines – Protocols – Procedures
CERTIFICATE OF ATTENDANCE
Certificates of attendance will be sent by email to each participant by the Organizing Secretariat at the end of the Congress.