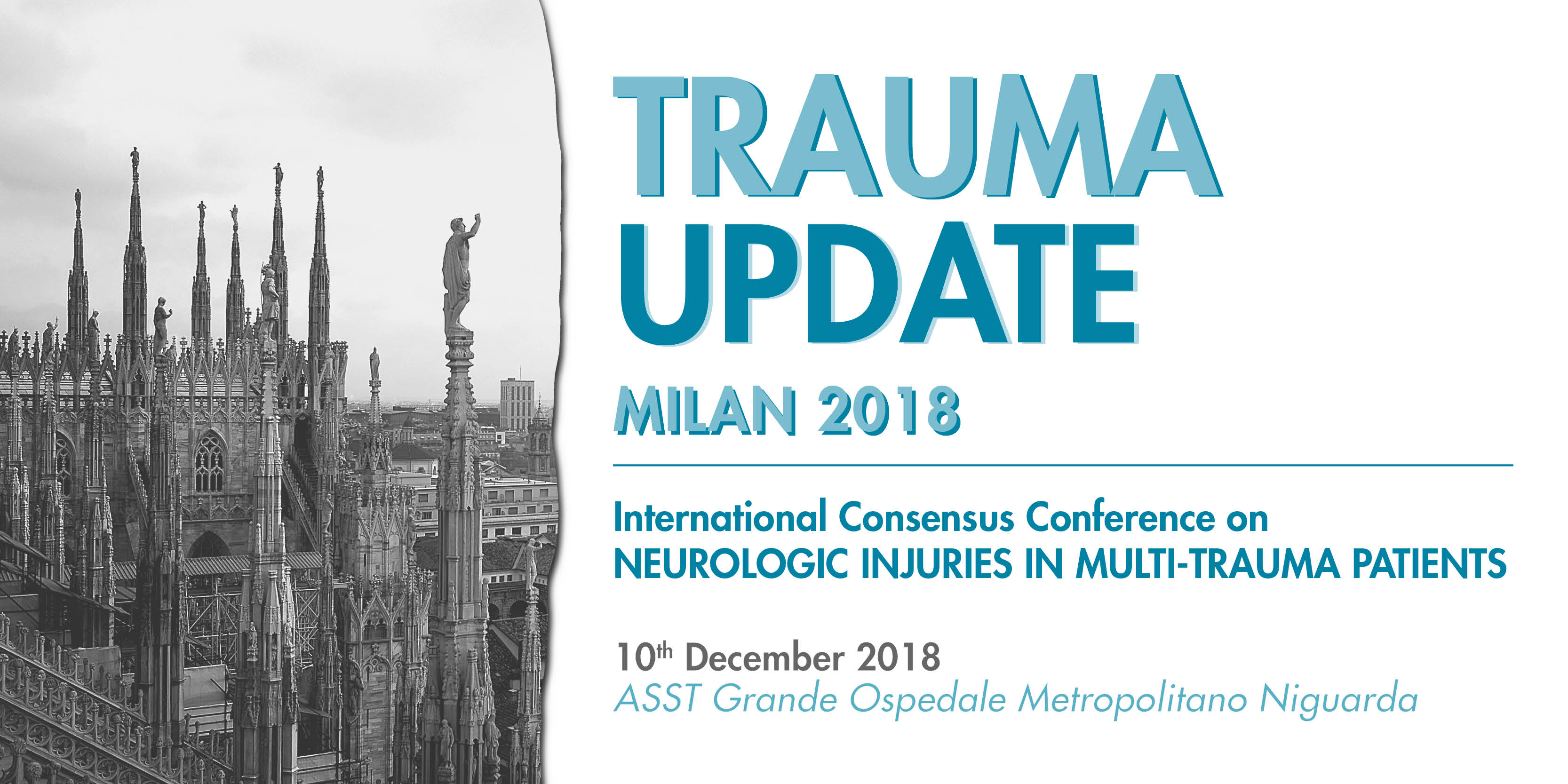 TRAUMA UPDATE – INTERNATIONAL CONSENSUS CONFERENCE ON NEUROLOGIC INJURIES IN MULTI-TRAUMA PATIENTS
Provider ECM NOEMA
SCIENTIFIC COMMITTEE
Osvaldo Chiara (Milan)
Stefania Cimbanassi (Milan)
Arturo Chieregato (Milan)
Elio Clemente Agostoni (Milan)
TRAUMA UPDATE COORDINATION COMMITTEE
Osvaldo Chiara (Milan)
Arturo Chieregato (Milan)
Elvio De Blasio (Benevento)
Giovanni Gordini (Bologna)
Giuseppe Nardi (Rimini)
TRAUMA UPDATE TECHNICAL AND SCIENTIFIC COMMITTEE
Vanessa Agostini (Cesena)
Giovanni Bini (Cesena)
Stefania Cimbanassi (Milan)
Emiliano Cingolani (Rome)
Carlo Coniglio (Bologna)
Francesca Mengoli (Bologna)
Alessandro Monesi (Bologna)
Concetta Pellegrini (Napoli)
Daniele Poole (Belluno)
Gianfranco Sanson (Trieste)
Claudio Tacconi (Bologna)
Annalisa Volpi (Parma)
INTERNATIONAL EXPERT
Thomas M. Scalea (Baltimore, MD – USA)
NATIONAL PANEL OF EXPERTS (NPE)
Laura Briani (Pavia)
Fausto Catena (Parma)
Marco Cenzato (Milan)
Christian Angel Compagnone (Milan)
Francesco Curto (Milan)
Giuseppe D'Aliberti (Milan)
Federico De Iure (Bologna)
Matteo Giacomini (Milan)
Pietro Giorgi (Milan)
Giovanni Gordini (Bologna)
Federico Pozzi (Milan)
Tiziana Redaelli (Milan)
Franco Servadei (Rozzano MI)
Michele Spinelli (Milan)
Nino Stocchetti (Milan)
Matteo Zaniboni (Milan)
FACULTY
Elio Clemente Agostoni (Milan)
Laura Briani (Pavia)
Fausto Catena (Parma)
Marco Cenzato (Milan)
Osvaldo Chiara (Milan)
Arturo Chieregato (Milan)
Stefania Cimbanassi (Milan)
Christian Angel Compagnone (Milan)
Francesco Curto (Milan)
Giuseppe D'Aliberti (Milan)
Federico De Iure (Bologna)
Matteo Giacomini (Milan)
Pietro Giorgi (Milan)
Giovanni Gordini (Bologna)
Federico Pozzi (Milan)
Tiziana Redaelli (Milan)
Thomas M. Scalea (Baltimore, MD, USA)
Franco Servadei (Rozzano MI)
Michele Spinelli (Milan)
Nino Stocchetti (Milan)
Matteo Zaniboni (Milan)
REPRESENTATIVES OF THE FOLLOWING SOCIETIES AND ORGANIZATIONS WILL PARTICIPATE IN THE CONFERENCE
Trauma Update Network > Giovanni Gordini
AAST American Association for the Surgery of Trauma > Thomas Scalea
ACOI Associazione Chirurghi Ospedalieri Italiani > Sergio Ribaldi
IDMA International Disaster Medicine Association > Giuseppe Noschese
OTODI Ortopedici e Traumatologi Ospedalieri d'Italia > Federico Bove
SIAARTI Società Italiana di Anestesia Analgesia Rianimazione e Terapia Intensiva > Emiliano Cingolani
SICUT Società Italiana Chirurgia d'Urgenza e del Trauma > Rinaldo Marzaioli
SIMEU Società Italiana di Medicina di Emergenza-Urgenza > Matteo Borselli
SIMS Società Italiana Midollo Spinale > Adriana Cassinis
SINCH Società Italiana di Neurochirurgia > Corrado Iaccarino
SLC Società Lombarda di Chirurgia > Pietro Carnevali
WSES World Society of Emergency Surgery > Fausto Catena
ONLINE REGISTRATIONS ARE CLOSED. YOU CAN REGISTER DIRECTLY ONSITE ON MONDAY, DECEMBER 10TH FROM 8 AM
HOW TO REACH THE VENUE
By train
From Milano Centrale railway station:
• metro line nr. 3 (yellow) to Zara station; then metro nr. 5 (lilac) to Ca' Granda (Niguarda Hospital is a 10-minutes walk from the station)
• tram nr. 5, Ospedale Maggiore Niguarda stop From Milano Porta Garibaldi railway station:
• metro line nr. 5 (lilac) to Ca' Granda (Niguarda Hospital is a 10-minutes walk from the station)
• tram nr. 4, Ospedale Maggiore Niguarda stop
By car
Tangenziale Ovest, Cormano exit, direct to City center – Niguarda
LANGUAGE
English is the official language. Simultaneous translation from/to English/Italian will be provided.
CME CREDITS
• Provider: Noema srl unipersonale (Id. 891)
• Id. event: 240577 • Number of credits: 1,8
• Categories included in CME accreditation: Physician (Specialties' list available on Age.Na.S. website), Neurophysiopathology technician, Nurse, Orthopaedic Technician, Pediatric nurse, Physiotherapist, Psychologist, Radiology technician, Occupational therapist.
• Educational objective: Guidelines – Protocols – Procedures
REGISTRATION
Registration Fees
• Full fee: Eur 120,00 + 22% VAT
• Reduced fee: Eur 85,00 + 22% VAT (Resident, Nurse, Pediatric Nurse, Occupational Therapist, Orthopedic Technician, Physiotherapist, Radiology Technician, Technician in Neurophysiopathology)
The fee includes: admittance to the Congress sessions, Congress kit, certificate of attendance, CME credits (if achieved).
The staff of Niguarda Hospital interested in joining the Congress can contact the Secretary of DEA-EAS Department (Tiziana Filomia – ph. +39 02 64447209 – tiziananatalina.filomia@ospedaleniguarda.it).
CANCELLATION POLICY
Cancellation of registration has to be compulsorily notified in writing (by email or fax) to the Organizing Secretariat. 70% of the amount paid will be refunded if cancellation is made no later than 9th November 2018. After that date there is no refund.
CERTIFICATE OF ATTENDANCE
Certificates of attendance will be issued to each participant by the Organizing Secretariat at the end of the Congress.