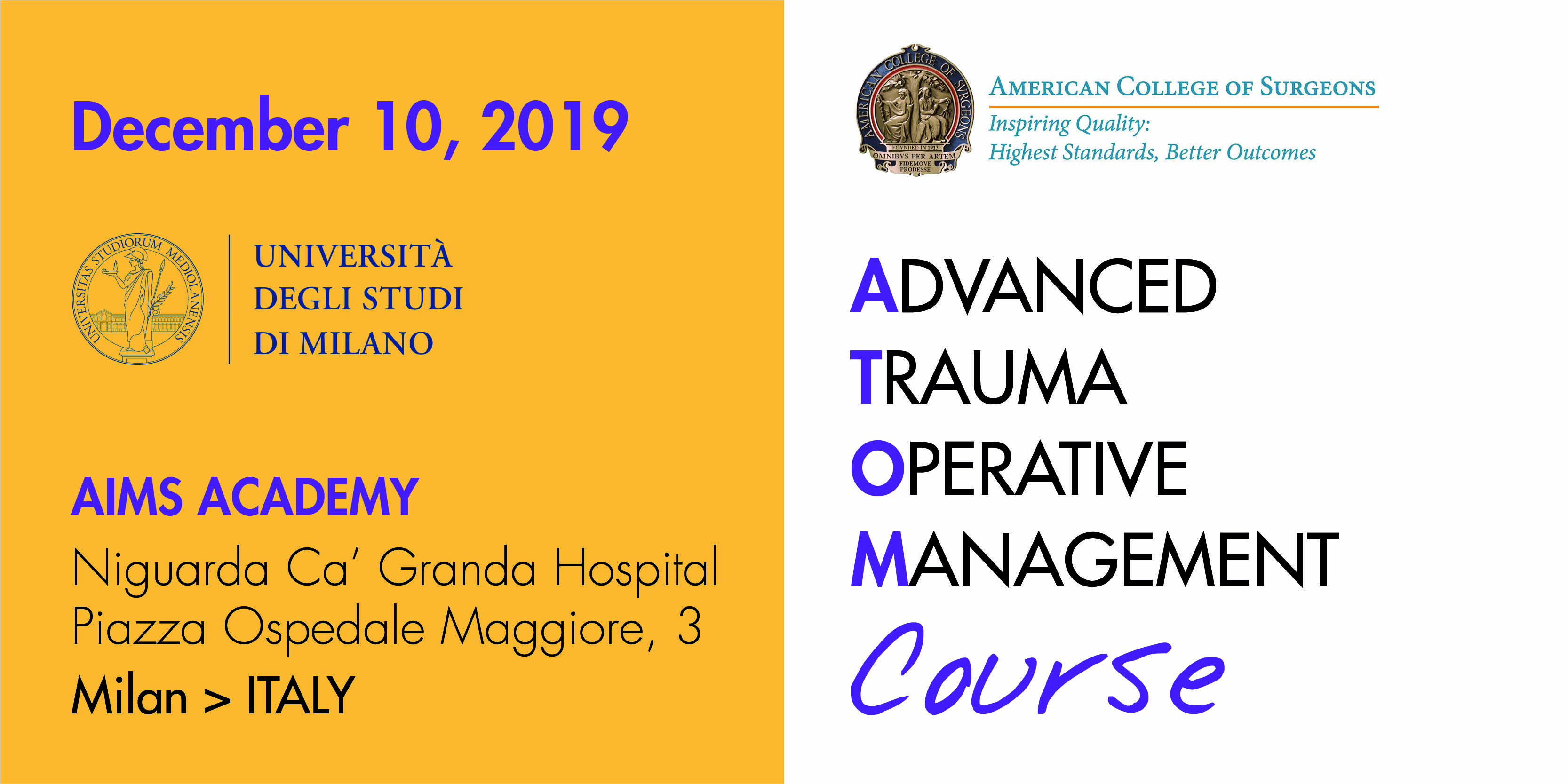 ADVANCED TRAUMA OPERATIVE MANAGEMENT COURSE
On line registrations are now closed. You can sign in on site as an observer on tuesday 10th. Please, contact us for any further information
COURSE DIRECTOR
Sharon M. Henry (Baltimore, MD, USA)
LOCAL COURSE DIRECTOR
Osvaldo Chiara (Milan, Italy)
FACULTY
Luca Ansaloni (Cesena, Italy)
Stefania Cimbanassi (Milan, Italy)
Federico Coccolini (cesena, Italy)
Shailvi Gupta (Baltimore, MD, USA)
Andrea Mingoli (Rome, Italy)
Thomas M. Scalea (Baltimore, MD, USA)
LOCAL COURSE HOSTS
Raffaele Pugliese (Milan, Italy)
Antonello Forgione (Milan, Italy)
COURSE COORDINATOR
Claire Leidy
cleidy@umm.edu
LOCAL COURSE COORDINATOR
Maria Pia Petrei
m.petrei@noemacongressi.it
Ph. +39 051 230385
LANGUAGE
English is the official language of the Course. Simultaneous translation is not provided.
REGISTRATION
Operating Table: a 2.100,00 + 22% VAT (including Surgeon, Assistant and Scrub Nurse).
Participation has to be previously agreed with the Local Course Director Dr. Osvaldo Chiara.
Observer: a 100,00 + 22% VAT (in audio-video connection with the operating theatre).
For registration and information, please contact info@noemacongressi.it
CANCELLATION
Cancellation of registration as Observer has to be compulsorily communicated to the Organizing Secretariat by email or fax) by November 8, 2019. 70% of the fee will be refunded. After this date no refund will be done.