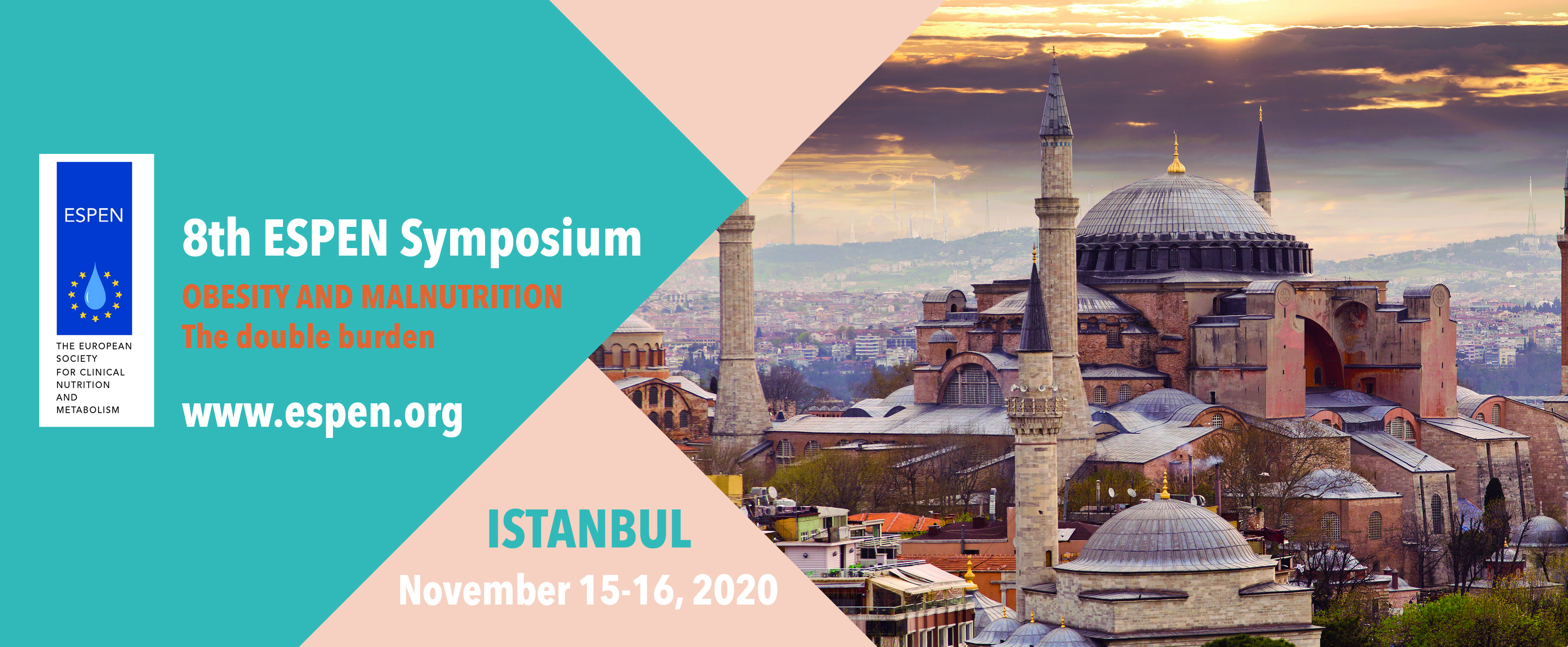 8TH ESPEN SYMPOSIUM
Provider ECM NOEMA
CHAIRS
Osman Abbasoglu
Ankara, Turkey
Yves Boirie
Clermont-Ferrand, France
Dileep Lobo
Nottingham, UK
FACULTY
Osman Abbasoglu
Ankara, Turkey
Rocco Barazzoni
Trieste, Italy
Stephan Bischoff
Stuttgart, Germany
Yves Boirie
Clermont Ferrand, France
Anja Bosy-Westphal
Kiel, Germany
João Breda
(WHO Moscow)
Porto, Portugal
Luca Busetto
Padua, Italy
Tommy Cederholm
Uppsala, Sweden
Irit Chermesh
Haifa, Israel
Michael Chourdakis
Thessaloniki, Greece
Pierre Dechelotte
Rouen, France
Nathalie Delzenne
Louvain, Belgium
Kubilay Demirag
Izmir, Turkey
Lorenzo Maria Donini
Rome, Italy
Abdul Dulloo
Freiburg, Switzerland
Graham Finlayson
Leeds, UK
Meltem Halil
Ankara, Turkey
Dileep Lobo
Nottingham, UK
Manfred Müller
Kiel, Germany
Bulent Okan Yildiz
Ankara, Turkey
Anders Thorell
Stockholm, Sweden
Darija Vranešić Bender
Zagreb, Croatia
Volkan Yumuk
Istanbul, Turkey
REGISTRATION FEES
Symposium
ESPEN member*: € 144,00
ESPEN non member: € 180,00
LLL Course on Nutrition in Obesity
ESPEN member*: € 40,00
ESPEN non member: € 60,00
* 2020 regular membership is required.
The fees include:
– Admittance to the Scientific Sessions;
– Conference kit;
– Certificate of attendance;
– CME credits (if achieved);
– Coffee break.
Cancellation policy
Cancellation of registration must be made in writing to the organizing secretariat (by email or fax).
If received before October 2, 2020, 70% of the amount paid will be refunded. No refunds will be made after this date
VENUE
Radisson Blu Hotel, Istanbul Sisli
19 Mayis Street No 2
34360 Sisli – Istanbul (Turkey)
CME CREDITS
International CME credits will be requested from UEMS/EACCME for the 8th ESPEN Symposium.
LANGUAGE
English is the official language of the event.
HOTEL RESERVATIONS
The Organizing Secretariat is available for Hotel reservations.